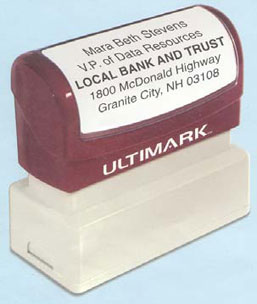 IStamp and Ultimark self inking stamps create the clearest impression of all the
self inking stamps we manufacture.

They are perfect for the reproduction of artwork such as logos, or smaller text
etc.

The IStamp also offers the largest self inking die plate available 122x86mm.

The text or impression is burnt onto the text plate, the ink pad soaks through
the text plate creating a perfect impression each time.

A variety of ink colours is available including a quick drying ink for glossy
surfaces.

Artwork such as drawings, logos, etc need to be supplied in black and white
with no background shading. They can be provided in print or emailed in a
Jpeg format.

Call, fax or email Peter to discuss your special needs. 15 stamp sizes available
Normal Australia Post postage costs apply. Local pick-up service available